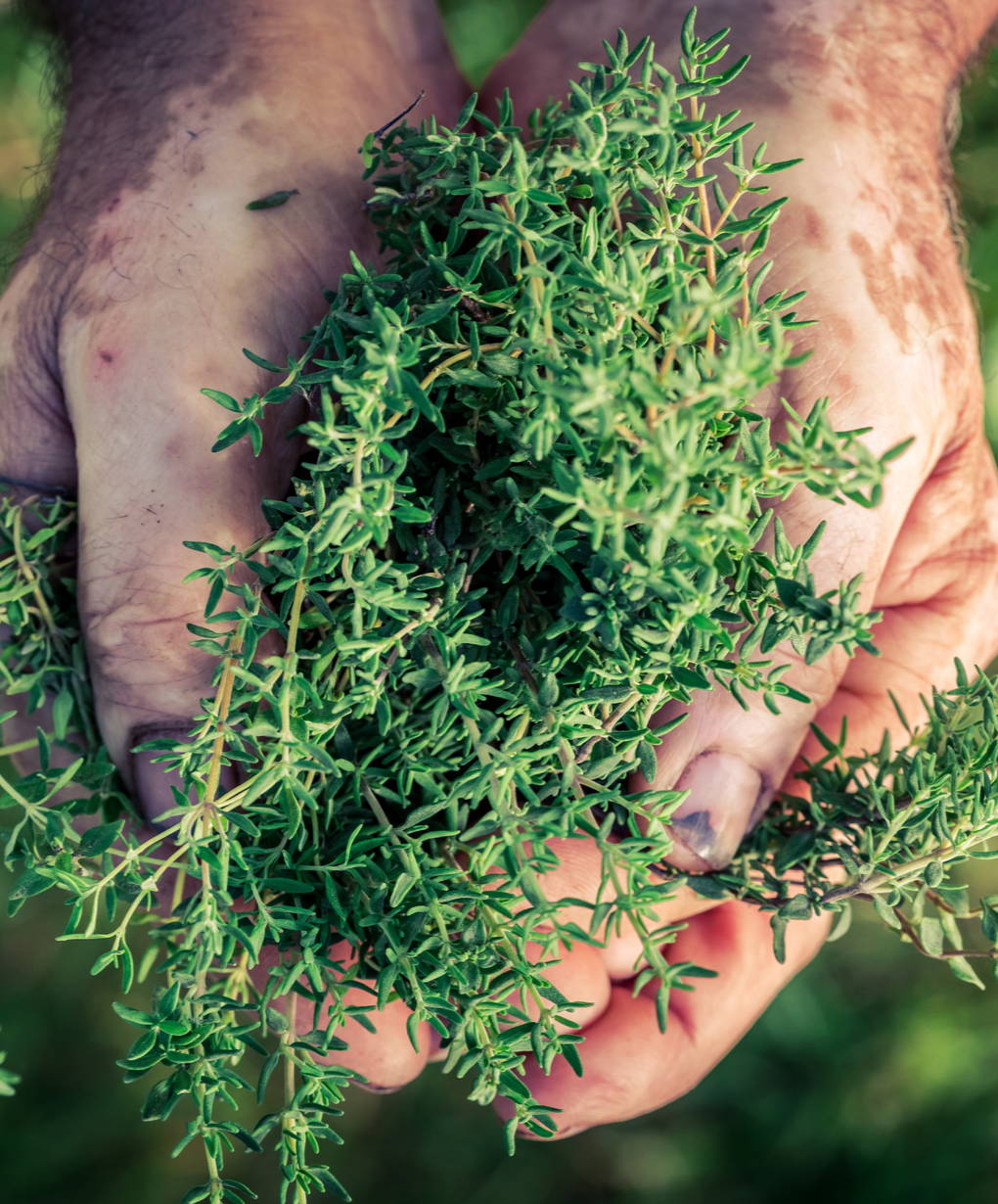 Thyme is a little diminutive herb that creeps slowly into the nooks and crannies of your garden and yet has a lot of very practical uses (besides making my roasted delicata squash taste pretty much like magic) it is filled with herbal benefits to the nth degree.
Since I've been an herbalist I reach for thyme again and again this time of year. Spasmodic coughs, whooping cough, anything with the infections of the bronchioles. It's easy and generally considered safe. It's going to move out phlegm wherever it may be settling. Like the way it grows, it is reaching into the cracks and crevices of our bodies and pulling out infection.
It's a powerful antibacterial, antiviral, expectorant, antifungal and antioxidant. I love to use it specifically for lung congestion, respiratory tract infections, damp boggy coughs, sinus congestion, pertussis, colds and influenza.
And yes we are still talking about thyme.
The easiest way to use this powerful herb is in a tea. Dried or fresh thyme is filled with the active Thymol and is warming and drying, which you need when your body is filling up with fluids. My standard recipe is 1 tsp per cup of water fresh and dry.
I love combining it with ginger, honey, and lemon in tea for lung support along with conventional care.
A few notes on when to use thyme energetically. Because thyme is a warming herb, you want to note that if the person is already dry or depleted you may need to add a demulcent that is moistening and cooling like marshmallow root, plantain or mullein to your tea. I like to think of demulcents like oil for cars they just keep it all moving along. If you don't have this, the expectorant action of thyme may cause irritation.
Also I learned this from Maria Noel Groves book, Grow Your Own Herbal Remedies, that Thyme is one of the main ingredients for Listerine, and can be used as an antiseptic/antifungal spray for mouthwashes, foot spray and wound compresses.
As a flower essence or plant spirit, Thyme is alive in the now when there seemingly isn't enough thyme, or time. (see what I did there).
Enjoy this oxymel recipe for your fall and winter health.
You can download a PDF of this recipe HERE.

1 oz of fresh thyme (my favorite is lemon thyme) or ½ oz of dried thyme if you have to
4 oz of elderberries fresh or 2 oz dried
1 cinnamon stick
2 whole cloves
1.5 cup apple cider vinegar
½ cup honey
I like to use the shake, stir & sit method for this, if you have the thyme (haha).Fill your pint jar with all the herbs about one-fourth to one-fifth full.You do not need to de-stem the thyme, but do pack it in pretty well.
Cover with either a plastic lid or a lid that is covered with parchment paper.
Stir the herbs together, and then every day for two weeks give it a good shake.
After 2 weeks, strain it and you have your oxymel!
I love using this as a condiment or base for salad dressing. OR if you feel anything coming on, then take 30-60 drops, up to 5x a day, to activate your immune response and the medicinal oomph of thyme.
References:
Grow Your Own HerbsHerbal Medicine -Maria Noel Groves
Herbal Medicine from the Heart of the Earth -Dr. Sharol Marie Tilgner
Herbal Antibiotics: Stephen Buhner
Herbal Therapeutics:David Winston

This info has not been evaluated by the FDA and is for information use only. See full disclaimer HERE.