Braiding Sweetgrass: Transforming Book for Plant Lovers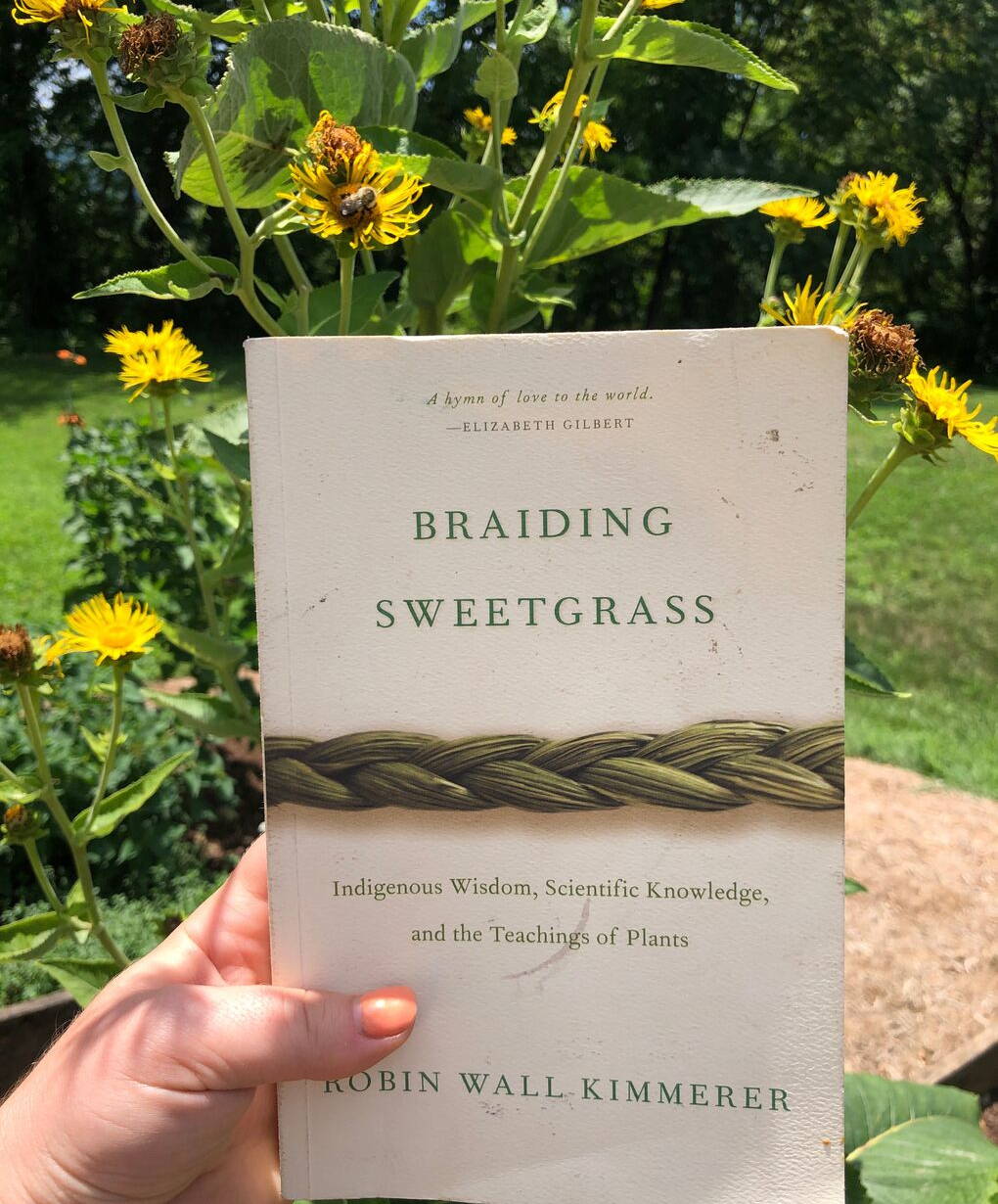 I've always been a book and plant kinda gal. I remember in my earliest years cozying up under a tree with a blanket and a book. Feeling ants crawling on my scraggly legs, twirling (or sucking) my hair, just lost in it all.
As a full adult, I struggle with making time to use books as an escape. Usually they wind into my writings, or offer a ten minute respite from the daily. More often than not they are my most trusted sleep medicine.
But some of them, they come into my life and flip a switch. Books like A Tree Grows in Brooklyn by Betty Smith when I was 18, The Giver by Lois Lowry in my young adult lit class when I was 20, and fast forward to when I was 34 a young mom, newbie student of herbs, and just coming to terms with my spirit as part of all of this. Not necessarily running away from the foundations of Christianity but more connecting the dots.How do I fit in? How do I make a difference?I can't remember who, but there was a strong recommendation to read the quintessential spirit guide by Robin Wall Kimmerer, Braiding Sweetgrass.
This book transported me and yet grounded me into my own, through the stories and memories of elders. The abundance of Earth's treasures rises amongst us. In my world it's the humble plants, supporting and strengthening our bodies, minds and spirits.
And as I grow into myself fully this book keeps resonating louder. Weaving in and out of my daily rhythms, the metaphors of this book play fervently into my daily understandings of what must happen to support the planet we stand on.To speak loudly and boldly for the spirits of the plants that can't. This can come so simply as a moment of honor before harvesting. Saying thank you or hello. Greeting the plants for not only their medicine but their energy.
Then doing it responsibly. Leaving some for the birds and wildlife that may need it. Allowing enough seeds so it can spread.This is always so tempting to take more. To not trust that you'll have just the right amount. That you may run out and not have a chance to replenish.
I know this feeling all too well. I've brought home bundles of plants that I just didn't have time to put up quite the way I like and I feel the guilt of not being a steward.
But then a funny thing happens, someone will connect with me, saying they need more Sweetleaf, do I have any? Or it will dry in a forgotten bag to be discovered next year with excitement. A pile of dried Rosemary? Let's make an infused oil for the winter. Trusting. Honoring. Building. All missions that I keep reaching for.
This book is a beautiful outline of what can be in our little microcosms of our surroundings.