Black Elderberry Syrup: "Crud Buster"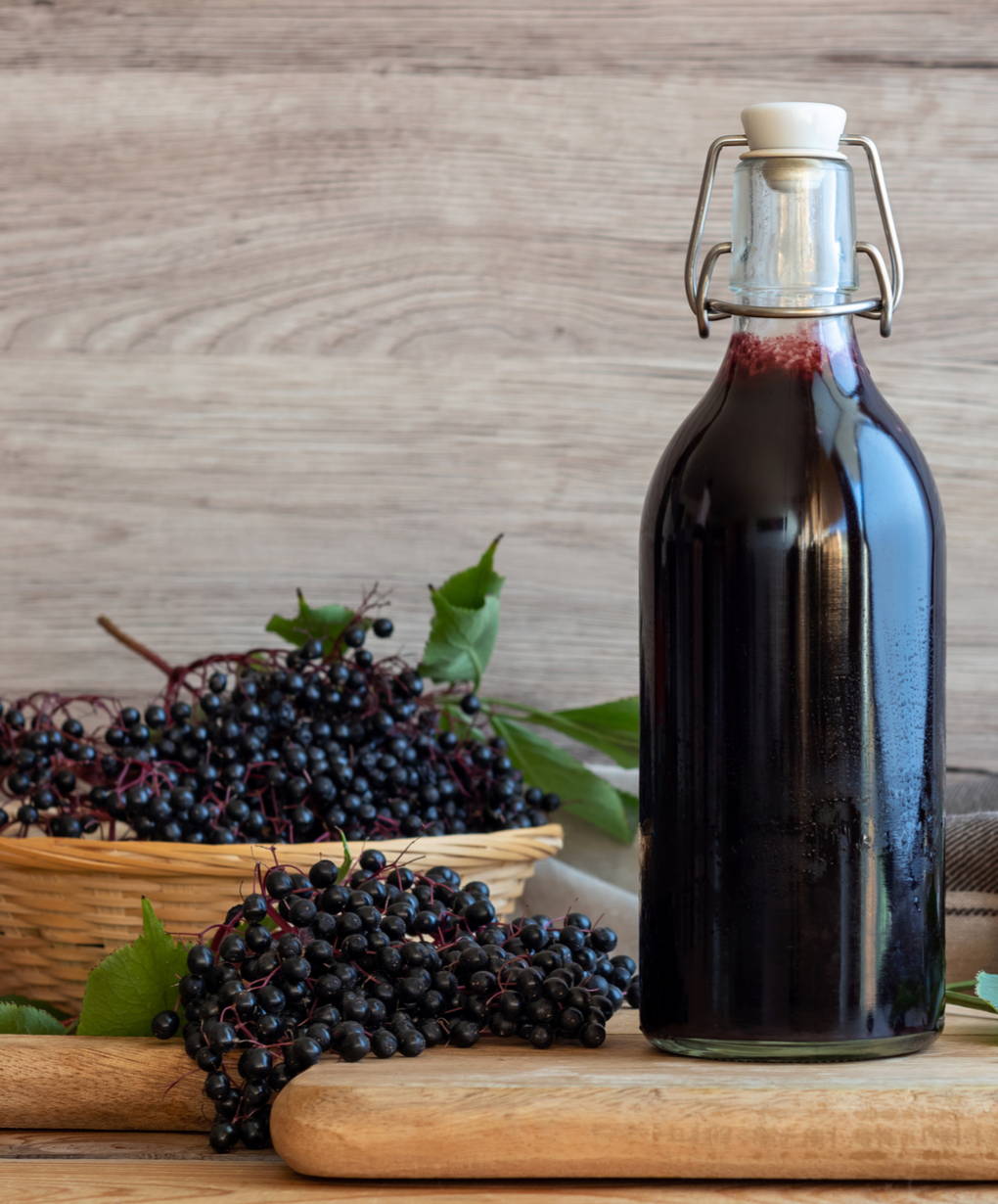 'Tis the season to be snotty and sniffly!
I love exposing folks to the power of herbs with traditional remedies. Elderberry Syrup is another classic, traditional recipe that bolsters the immune system and really helps ward off colds.
Elderberry is a beauty that we believe everyone should have in their home wellness cabinet. Elderberry syrup is especially good for little ones because it has a nice flavor of "juice", it is also filled with honey for extra additional immune building properties. This syrup really works on the crud that seems to linger - especially anything related to the lungs.
A basic elderberry syrup recipe can be as simple as elderberries and honey but I like to add a few little tinges of warmth to help with circulation: cinnamon and cardamom. This easy-to-make-at-home recipe is a great gift for teachers and grandparents and your kiddos can even help in the kitchen to make it! Make sure you refrigerate after opening (lasts usually up to 4 weeks).

Black Elderberry Syrup aka "Crud Buster"
Ingredients:
4 cups Pure Cold Water
2 cups Dried Elderberries
5 Cardamom Pods
2 Cinnamon Sticks
1 cup Raw Honey (approximately)
Directions:
Combine the berries and herbs with cold water in a pot and bring to a boil.Reduce heat and allow herbs to simmer for 30 to 40 minutes.
Remove from heat and mash the berries in the liquid mixture.
Strain the berries and herbs through cheesecloth or strainer and squeeze out the juice.
Measure the liquid and add an equal amount of honey.
TIP: Make sure you don't boil at this point: it really only needs to heat a few minutes until well combined.Bottle in sterilized glass.Refrigerate and enjoy.
My daily recommendation: a teaspoon or two daily for general wellness and 2 tablespoons every couple hours if you are unwell!*
--Love the idea of this but don't want to make it on your own. Try our Crud Buster - Black Elderberry Syrup - Pick some up at our Wild Roots Apothecary in Sperryville, Virginia or order some online for it to be delivered to your front door!
Want to know more about Elderberry? Click here for our Herbal Musing on The Land of Elder.
Recipe above is a combination adapted from Green Comfort School of Herbal Medicine with additional "oomph" by Wild Roots Apothecary.
DISCLAIMER
Colleen O'Bryant is a trained herbalist and not a licensed doctor or registered healthcare practitioner. She cannot and does not claim to diagnose health conditions, nor prescribe medicines. Colleen O'Bryant does not claim that the information and products she provides to Client will prevent, alleviate, or cure any diseases or medical conditions. The information and products Colleen and Wild Roots Apothecary provides is not intended to be a substitute for medical treatment. Please consult your medical care provider before using herbal products, particularly if you have a known medical condition, allergy or if you are pregnant or nursing. Always consult a medical doctor before modifying your diet, using any new product, drug, supplement, or doing any new exercises.
*Wild Roots Apothecary statements and products have not been evaluated by the FDA and they are not intended to diagnose, treat, cure, or prevent any disease or condition. Client understands that Colleen is not yet certified by the American Herbalists Guild, but by working with clients such as yourself she is gaining the required hours of practice to apply towards her certification.Wild Roots Apothecary does not claim to be a pharmacy or prescribe medicines. Additionally, Wild Roots does not claim to be able to cure or relieve the client's specific condition or illness with the herbal formulations or recommendations provided.