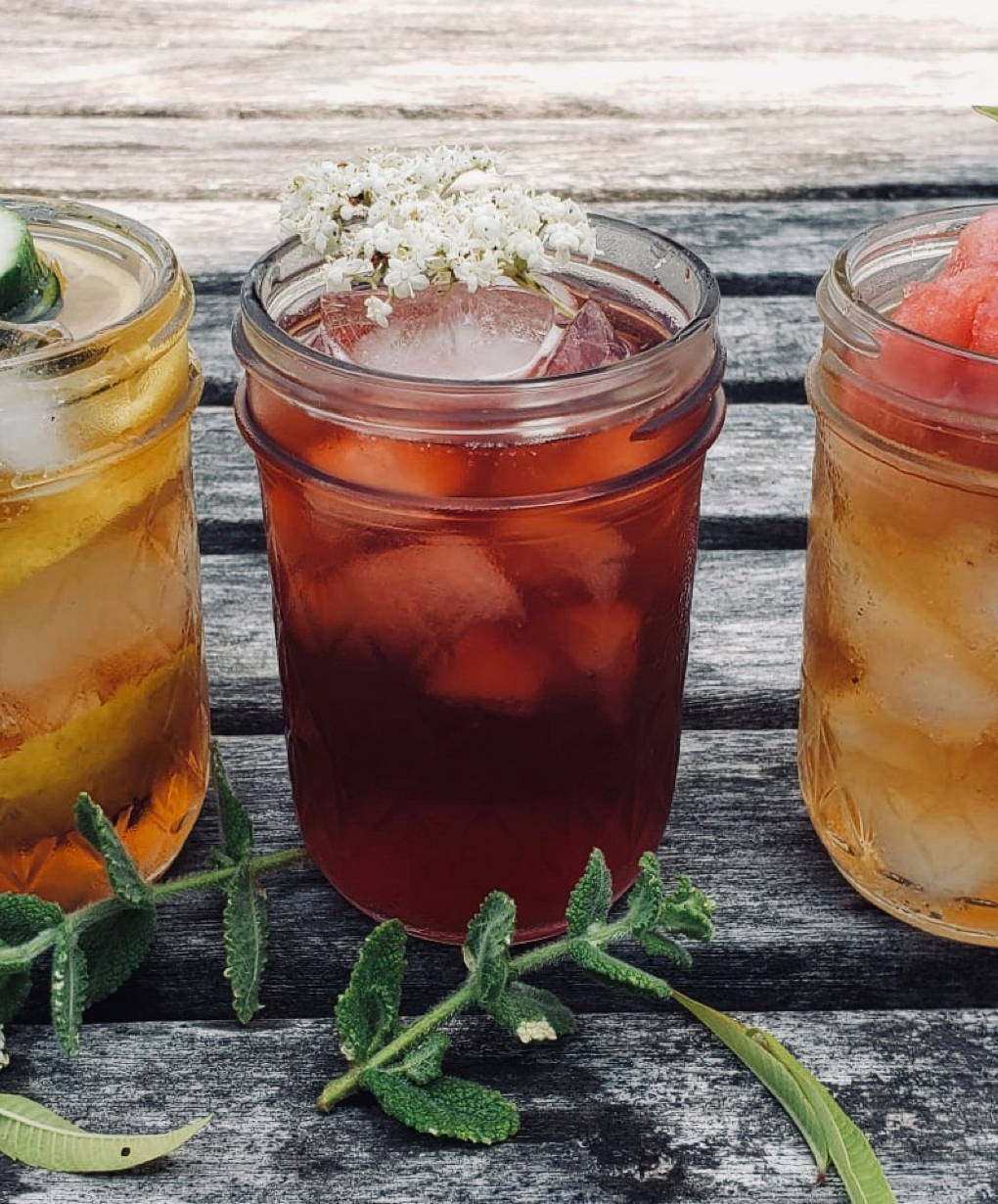 The endless possibilities of tea...

There is something about adding freshness into a brewed tea that makes me feel deeply connected. Yesterday evening, I added a few strawberry leaves and a sprig of lemon verbena to my Deep Ahh Tea as I enjoyed the last moments of the sun.

Then while packing my kiddos lunch for camp, I added a slice of watermelon and mint to my Nourish me tea. Why? 'Cause I really dislike the way heat makes me feel. As summer peaks, I crave the cooling sensation of summer's herbal allies: Peppermint, Lemon Verbena, & Basil.

I have teas for all of the seasons, moods, and ailments. When the summer heat makes me feel extra, I reach for the mood cooling magic of Tulsi Basil & Anise Hyssop. It's one of the many reasons I made our Deep Ahh tea - for when the world is just a little too much to handle and I need support. Add a few slices of cucumber and a squeeze of lemon and watch how that brings you to balance.
Then there is the other side of the coin, the summer colds. It's not necessarily the external heat but rather the internal. Our Sniffle & Snot Tea has the perfect combination of mint and elderflower. Both support the diaphoretic actions of the body to remove heat. Bonus: it reduces the duration of the cold and quells the histamines in the body from the allergies.

When I need an energy pick me up. Our lemony fresh Nourish Me is a little reminiscent of Celestial Tea's Lemon Zinger with the lemon and hibiscus, but I've added nettles and horsetail to make you feel mighty again. Hibiscus's cooling nature helps dispel heat, and horsetail and nettles give your body the energy it needs to complete the day! I love making a big pitcher of this and adding some watermelon, a little pinch of salt, and a dollop of honey to make it my perfect electrolyte balancer.

The teas we make are lovingly and expertly crafted not only for the herbal benefits, but also for taste. Love teas, especially our teas? Let us know in the comments below!

Want more tips for your summer survival kit? Follow us on Instagram or Facebook and we'll keep the herbal goodness coming your way!

Disclaimer:

All health, wellness, herbal and nutrition information published on this website is for informational purposes only and not meant to diagnose, treat or cure any illness or disease. You are choosing to follow or experiment with this information as you choose and at your own discretion and risk. Wild Roots Apothecary is not liable for any health outcomes resulting from the published information.