A Guide to Herbal Tea as Medicine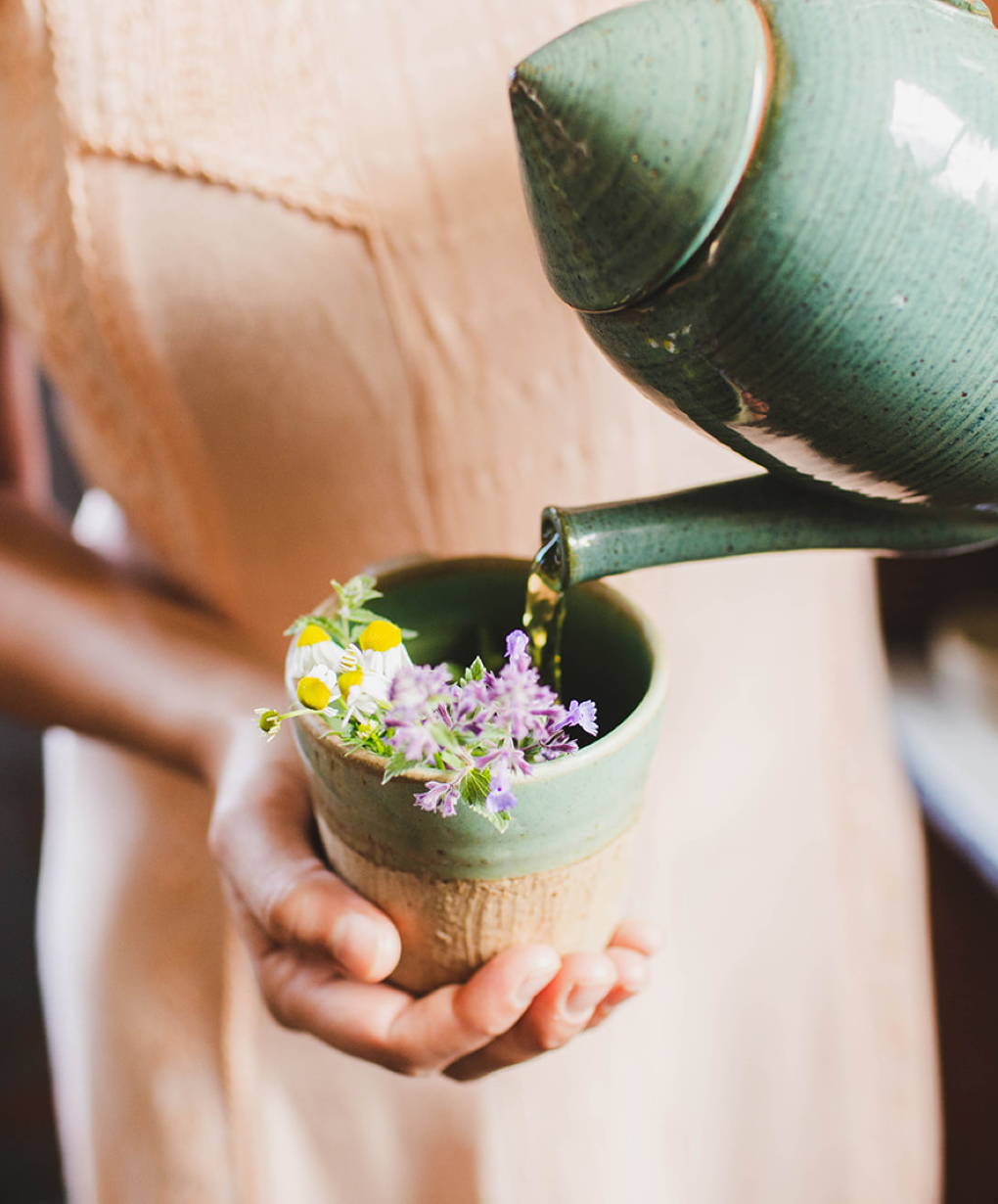 Tea as Medicine.
It seems pretty simple the process of making tea. To pour boiling water onto the herbs and let their cells explode until the pharmacologically are released. Then all we have to do is sip and nourish. Sip and nourish. But this is my chance to help you dive deeper into the process and find a way to maximize the benefits of your herbal tea blends.
So what does that bring us to? Is a cup of tea just a cup of tea?
Um. Sorry, I'm going to rock your world a bit today. ¯\_(ツ)_/¯. Like it's my job!
Teas vs. Infusions

The universal idea of "tea" is to put herbs or leaves of tea into a pot, adding hot water, steeping for 3-10 minutes, and straining. Drink and be happy. But I'm hoping to open your eyes to something a little well, let's just say more.

The more that I'm talking about is an INFUSION. An infusion is one of the easiest ways to use herbs right away. It's still the same water and herbs combo, but you let it sit for a longer time. We are able to access the plant vitality in a completely different way.

I like to think of tea as a little creek (or crick where I come from), running through your body, making it all the way down. An infusion is like the Buffalo River flowing over Niagara Falls. It's flowing and fierce, leaving what it needs and sweeping the rest downstream and out of the body. I like to think of it as a flooding of the cells. But is all starts with the basics.

Now we know that water is the extraction technique. How? It pretty much blows the cells of the plant-wide open and leaves the pharmacologically active constituents and fodder. *

Then we move on to the menstruum, which is the way it's extracted. In this case, water is our menstruum of choice. Although we use cold water in some cases (like here with marshmallow root), but for this basic technique, we're going to use hot or boiling water to achieve the maximum amount of nutrients. To get that, you need to really break down the cell walls of the plant, to access all of it's vital nutrients and fodder. Fodder is the leftover structure of the plant after its released its goodness. It works together to make the infusion more digestible and bioavailable to our body.
It's whole plant medicine, folks. And this is the way to reap the maximum benefits (think Niagara falls) of the herbs. Not by singling out a certain constituent for it's supposed benefits, you need all of it to work together.
So on to the Tea & Infusion Making guide.
Vessel

I use a wide mouth quart jar with a lid. AND I love it. It has measuring lines, is easily cleaned, and it is about the right amount of tea I want to drink every day for my tonic (daily) herbs. You want your herbs to be able to float around uninhibited, so (nope!) not in a strainer or a brew basket. Free as a fish in the ocean.
Herbs

For the infusion aka tea, you'll need a fair amount of herbs.
The (cue Julia Child's voice) proper ratio is 1 part coarsely ground herb or 2 parts fresh to 20 parts boiling water.
I use roughly 1 oz of dried herbs and 2 ounces of freshly chopped herbs to about 2-3 cups of water. I usually weigh mine out first and then I'll eyeball it after that. I highly recommend researching what herbs might work for you and then either growing your own OR purchasing in bulk from a local apothecary(ahem right here folks), farm, or from Mountain Rose Herbs.
*side note: A Lot of my favorite herb farms are starting to grow more and more herbs to sell, support local as much as possible. Here is a fantastic list of herbal growers.

Water
Next, we get to add the water, soft or distilled water is best to use rather than hard. If you can get filtered water that would be ideal but I don't want to lose you on this step, so stay with me. Note: I love this water filter for daily use plus it's a multi purpose for hiking and what not.
Pour three cups boiling water over your herbs.

Stir, Cover and Brew
Stir your herbs, give them a good swish about. I tend to use chopsticks, but those fancy things called spoons will work too. Cover your infusion with a lid to keep the heat in and maximize the extraction process. Then you wait, at least 30 minutes, but if you can let it go for 2 hours or even overnight, more plant matter is released. I like to make mine at night and strain it in the morning.
Depending on what herb I'm using, it's fun to see the magic happen. One of my favorite infusions to show people how hot water breaks down the plant is using Red Clover. It starts as a pretty pink flower and then by the morning it's pale and brown. This is because all of the plant goodness has broken down and gone into the infusion.

Straining and Drinking
I use a few different strainers for my tonic tea making. I use this one from Adagio on a pretty regular basis because it's easy. But I also use a hand held strainer over another quart jar and that works just as well too. Remember to press out all the herbal benefits by squishing or pressing the herbs out. This is a crucial step to getting all the plant goodness, the more plant cell crushing that you can make happen at this time= more plant cells in your body. Then compost your leftovers. You might be tempted to rebrew but just don't.
And waa-la you have your tea infusion ready for flooding your body with all their herbal goodness.
Now what? Should I just chug this?
Um no. Trust me. It's not some sloppy green drink filled with spinach, pea protein, coconut oil, and a raw egg. You don't want to overwhelm your cells.
Start by tasting it. Do you like it? Does it need something? For example, I drink a fair amount of Nettle tea. But I don't necessarily LOVE nettle tea straight, it tastes very green, like plants that grew near seaweed. For me, I add a harmonizer, and a sweet herb to balance out the flavor and make it more palatable. In this case, Peppermint and Oatstraw.

Recipes and Blending your own tea

Experiment a little. Love lemony flavors? Add the harmonizing Lemon Balm or Lemon Verbena. Have something fresh in your gardens like Lemon Thyme or Basil? Add those. Or add some fresh fruit, lemon juice or orange slices, honey, stevia, or maple syrup. Find a blend that works best for you.
Then sip, throughout the day. I don't recommend icing your drink, however, you can add a little ice to make it room temp. Icing slows down your digestive fire and can cause all sorts of tummy troubles.
If you don't finish it though, put it in the fridge and finish it tomorrow. After that, it's going to get pretty fermented and taste off. This is when I like to water my plants with it or rinse my hair, it's still filled with vitamins and minerals.
The first couple of weeks, most people start to feel something subtle. A shift, maybe it's a little more energy. Maybe it's better sleep. Or happier digestion. Or more focus. Either way, infusions flood the cells with the phytonutrients in a way that is easy to digest and get into your body.
You'll start to crave it and one day you might wake up and say. Eeh. Usually, that's your body asking for something else, maybe you need an herb that supports a different body system. Or maybe you do need to take a break for a week.
I go through phases where I love Linden, then I switch to Oatstraw or Nettles and in the HOT months a quart of fresh Peppermint, Raspberry leaves and Anise Hyssop add both cooling AND nourishment to my daily dose. Some times its fresh and some times it's
Adding tea (ahem infusions) into your daily diet, opens you up for the possibility of healing in radical ways. To do this, just tack it on to something your doing already.
Here is an easy way to get started. If you do your dishes at night, I just heat the kettle while I'm finishing up. Then I weigh (or eyeball) the tea, pour the water, stir, cover and in the morning I strain and press it out. Recap and sip throughout the day. Or if I didn't do dishes that day (um this would be awesome, hubby hint hint). I'll make it in the morning before my shower and let it steep the hour before I get ready.

Quick Run Down of Great Tea Infusions and Properties, plus if you don't want to make it you can buy one of our herbal blends.
Tulsi Basil or Basil: Mood lifting, Cooling, Stress relieving Deep Ahh Tea
Peppermint: Cooling, Invigorating, Digestive Peppermint Belly Tea
Chamomile: Stress relieving, Digestive, Calming Sleepy Eyed Wonder
Nettles: Nourishing, Energizing Sniffle and Snot Tea
Oatstraw: Calming, Nourishing Deep Ahh or Peppermint Belly
Anise Hyssop: Cooling, Calming. Deep Ahh Tea
Linden: Cooling, Stress Relieving, Heart Supporting. Awakening Tea
Hibiscus: Cooling, Nutritive, Cardio supportive Nourish Me Tea
Lemon Verbena/Lemongrass: Cooling, Energizing, Happy Nourish Me Tea
My favorite recipes for herbal blends in parts, that way you can make them up as needed in bulk. Then have them on hand for whenever you need them.

Tummy Love Infusion
2 parts peppermint
2 part chamomile
1 part Linden

Energy Up Infusion
2 parts Hibiscus
2 parts Lemon Verbena
1 part Nettles

Rest Easy Infusion
2 parts Chamomile
2 Parts Linden
1 part Oatstraw
1 part Tulsi

And here's a printable! For your herbal medicine cabinet.