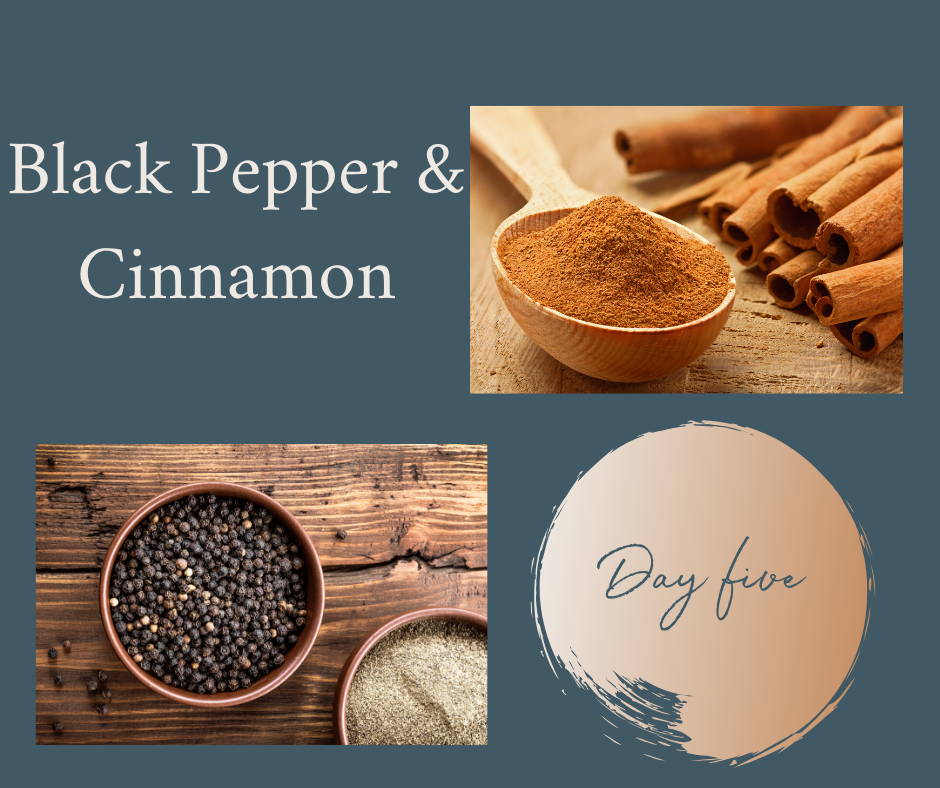 BLACK PEPPER

Botanical Name: Piper Nigrum
Taste: Pungent
Energetics: warming/drying
Herbal Actions: antimicrobial, antioxidant, antispasmodic, carminative, circulatory stimulant, stimulating diaphoretic
Typical uses: mucus congestion, slow and stagnant circulation, gentle laxative, arthritis, synergist (specifically increasing the bioavailability of other plants) hemorrhoids
What can be more ubiquitous than black pepper as a spice?
Look at all the ways we add it into food to subtly increase the heat and activate flavors. Salt and Pepper is a balancing combination allowing us to enjoy the character of the food and digest it better and get more nutrients out of our food.
When we look at food as medicine, black pepper is a subtle contender for "best" spice, and its hidden superpower is that it increases the blood vessel size and increases circulation to all parts of the body.
Doctors and scientists have often studied the effects of turmeric and pepper. On average, it increases the bioavailability of turmeric to the body by 10x. But it also does that in other herbs too like echinacea and goldenseal for infections including staph infections. The other unique thing of this powerful herb is available to modulate the physical properties of the cell membranes, which helps transport nutrients through the barriers. Wow. Right.
Digestive Issues:
I remember when I went on a date with my now-husband to a "fancy" Italian restaurant with their big pepper grinders for my fettuccine alfredo (or whatever cheese-filled dish I had). Little did I know that what I thought was just flavor was helping me to digest the luscious amount of cheese I was about to consume.
Pepper is one that helps warm up the digestion using the thermogenic effect to help "process" our slow digestion. So whenever you feel that stagnation in your gut where bloating, feeling of fullness adding pepper to EVERY meal will support your digestive process down.
It's excellent for the complaints of belching, flatulence, bloating, constipation, indigestion, nausea, stomach cramps, and more.
Also, for infants or children, using pepper as an external remedy over the navel can sometimes be supportive.
Other traditional remedies for Pepper.
I love using pepper for the respiratory system for wet coughs that need to be thinned and expelled.
It also drains chronic sinus mucus and assists with poor circulation. I often use it in combo with other herbs for this purpose.
To consume pepper, you can finely grind fresh ½ teaspoon, add one tablespoon of honey, and 6oz hot water. Add the juice of ½ lemon and whatever other herbs you'd like to. Sip as hot as possible.
I also add the berries of black pepper into most of my cooking liquids, stocks, broths, etc. are a great way to get the digestive and bioavailability into our diets.
CINNAMON:
Botanical Name: Cinnamomum zeylanicum
Parts used: dried inner bark
Energetics: Warming and Drying
Taste: Pungent, sweet
Herbal Actions: alterative, anthelmintic, anti-inflammatory, antibacterial, antiviral, astringent, expectorant, hypoglycemic, antioxidant, analgesic, hemostat.
Plant Uses toothache, diarrhea, circulation, infection, colds & flu, and insulin resistance.
Cinnamon may be one of the best herbs for improving overall wellness. It is a plant with an old history of being sought after and then struggled for as families tried to keep their precious cinnamon plantations.
There are two cinnamons available commercially, Ceylon and Cassia. Ceylon has a lighter sweeter flavor, and cassia is more pungent and spicier. Often Ceylon is touted as the one true cinnamon, but I use them interchangeably for herbal medicine.
The taste of cinnamon has been in my mouth, probably since I could eat. My mom would often make my sister and me cinnamon toast slathered with butter and cinnamon sugar a few times a week. It was in our apple sauce and all sorts of coffee cakes and quick bread.
For digestion:
If you've ever put cinnamon on your tongue, you can taste the sweet, but intense effects of this herb can help support so much of our body's wellness. Having cinnamon in your food increases circulation and helps with the congestion that is often accompanied by dairy products.
Because of its ability to warm up the digestive tract, it increases the digestion of fats and cold food. Also, the sweet flavor of cinnamon helps us reduce down on processed sugar consumption.
I love sprinkling cinnamon on apples as a sweet and spicy snack.
For when you're sick:
I went on and on about ginger yesterday, but having a cup of cinnamon and ginger tea when you're not feeling well offers a double whammy of spicy nicey. You have the warming effects that diffuse throughout the body, supporting fighting infections, fevers, cold hand or feet, diarrhea.
The cinnamon in this formulation is working by balancing out the internal temperature. While doing that, it's toning the intestines — this one of the reasons besides taste why cinnamon included with chai spices.
Sore throats adding cinnamon into your tea blend is a great way to coat and soothe any infections, including after speaking a lot.
For healthy gums and teeth:
Cinnamon can be used for its analgesic effect for tooth pain, but then also because of its toning and tightening to the gums and antiseptic, antimicrobial properties make it an excellent remedy for healthy gums.
I used to get canker sores in my mouth (probably because of too much sugar), but making a strong infusion of cinnamon and swishing with it would be a great way to support irritated gums.
Other uses:
Because of its sweet flavor, warming profile, and metabolic support, cinnamon can be used as a way to curb cravings of sweets. A cup of cinnamon or chai tea when you have a craving for sweets is a beautiful way to support your body.
It has also been shown in some studies to improve both glucose and cholesterol levels in adults with type 2 diabetes. But this isn't something I use in my work, so do your research.
For menstrual cramps, strong cinnamon tea will warm up the pelvic region and dispel acute spasms.
Cinnamon overall is something that can bring more balance into your daily life. My favorite way to consume cinnamon is to make my own Chai blend and sip throughout the day or to make a Dirty Chai (which is chai and coffee).
Colleens Chai Tea Mix
Makes ten servings
I love making a chai tea mix that I can make any time. This recipe is for a traditional chai where you boil the spices, tea, and milk together. But I also make the spice mix and
Chai Tea Blend
1 oz cinnamon chips
1oz black peppercorns
1 oz dried orange peel
10 whole cloves
10 cardamom pods
10 allspice berries
To make Chai Tea
.5 oz Breakfast or Darjeeling Black loose leaf tea (or decaf)
.5 inch piece fresh ginger, cut into thin rounds
½ teaspoon freshly grated nutmeg
2 cups cold water
1/2 cups whole milk
Honey to taste
Combine the first 6 ingredients as your chai spice blend. In a medium saucepan, add 2 tablespoons of your spice blend. Using mallet or back of a large spoon, lightly crush or bruise spices. Add 2 cups of water; bring to boil over high heat.
Reduce heat to medium-low, partially cover the pan, and simmer gently 10 minutes. Remove from heat. Add tea and steep 5 minutes. Strain and add milk and honey to taste. Bring tea to simmer over high heat, whisking until honey dissolves. Strain chai into a teapot and serve hot.
Notes on using cinnamon for wellness:
Cinnamon shouldn't be taken in large amounts during pregnancy.
Cinnamon can significantly lower blood glucose levels and can affect people with type 2 diabetes and insulin levels.
Cinnamon is an effective blood thinner. Ask your doctor before consuming non-culinary amounts of cinnamon.