5-Day Herbal Reset Challenge: Day 4 Ginger & Cayenne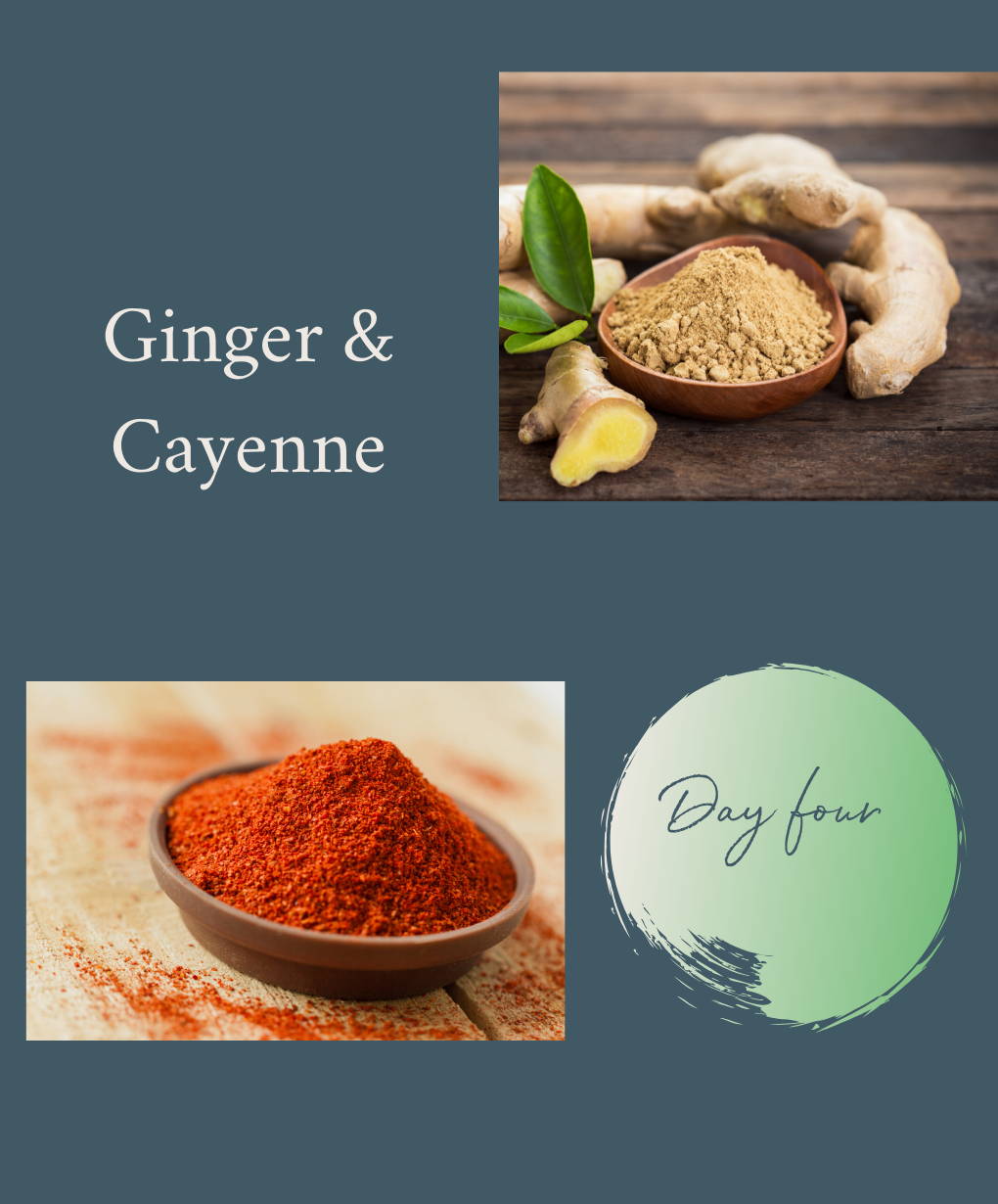 Ginger
Botanical Name: Zingiber Officinale
Gardening: Tropical plants need special care. Lots of water and rich soil.Taste: Pungent
Energetics: Fresh Rhizome: Warming, Drying - Dried Root: Hot, Drying
Herbal Actions: Anti Inflammatory, vermifuge, rubefacient, antibacterial, anti-fungal, anti-inflammatory, stimulant diaphoretic, antioxidant, aromatic, carminative, analgesic, alterative or blood moving
Typical uses: inflammation, arthritis, migraines, colds and flu, nausea, menstrual cramps from stagnation, heart health, ear infections, inflammation, stomach virus.

Ginger root fresh out of the garden is definitely one of the blessings of mother nature. If you ever get the chance to have fresh ginger you'll find joy in the aromatic root that just loves to be played with. Whether that is a fresh tea or grated into your smoothie, it adds a little pep in your step.

Ginger is one of those herbs (like nettle or rosehips) that I add to someone's protocol when I find that they need more oomph. Ginger lends itself to those who are a little bit sluggish and tend to be cold. Because our body should be in constant movement, at times when something gets sticky or stuck, ginger is truly one of the only remedies to gently move the body back into balance. It is also a remedy that works as a synergist, often adding ginger into a formulation increases the potency of the herbal actions. It works to dilate the blood vessels and increase circulation, adding to the effectiveness of the constituents getting into the body and bloodstream.
One caution with Ginger, for folks that tend to run hot or have redness in their face or may experience flushing, ginger is not for them. I would lend towards something circulating but not simulating like cardamom.
Ginger is a god-send for many clients that have arthritis. With the stimulating and anti-inflammatory components of ginger, applying a salve with ginger essential oil or ground ginger will help to relieve the pain and stiffness in the joints.
Circulation, Infections and Blood Movement:
Working as anti-inflammatory ginger works to stimulate the body's response to pain. For example if there is pain from menstrual cramping or pain in the pelvis like clots, fibroids, and delayed menstruation. Also topically for bruising.Used internally ginger is supporting healthy heart function and metabolic functions to optimal levels.
Infections:
Adding ginger into ANY tea formulation when you're feeling run down will work on the antibacterial level, using it specifically for strep throat, fungal infections and intestinal infections. It is a MUST to take ginger pastilles or crystallized ginger when you are traveling.For the colds and flu, ginger is THE herb to add in, especially when there are signs of cold and damp such as shivering, stuck mucus or cold hands and feet.Using the stimulating qualities of ginger will support congestion and stuffy sinuses by heating the body from the inside out.Note that in acute situations like a cold it is okay to use ginger on a person who may not get this regularly.
Digestion:
Hopefully you already know how wonderful ginger is for nauseas, motion sickness, and seasickness, but this is another one of those supporting tonic herbs that really has an affinity for the cold and sluggish digestion.
Using ginger for adding digestive fire is pretty tasty. Again, if there is stagnation in the body such as bloating, a sense of fullness, heavy feeling after meals and constipation, a strong ginger infusion can relieve and rebuild the gastric response.
Ginger can also be used in migraines at the onset by increasing the cerebral circulation and stopping the pain in its tracks. If migraines are a problem try mixing two tablespoons of ginger powder into warm water and drink. Using ginger essential oil mixed with a carrier oil and swiping across the head is also a great way to improve and relieve the situation.

Notes of consideration: Ginger shouldn't be used for most people that may already be warm and dry. It often exacerbates any heat in the body and can cause discomfort.If you are on blood-thinning medication, then consult your doctor.If you are pregnant, use ginger in small doses like fresh ginger tea but avoid any stronger infusions.

Hot Ginger Bath:
One of my go-to remedies if I feel chilled or sickness coming on, is to add a ½-1 cup of powdered ginger to my bathtub and take about a 20-minute bath. Then massage my body with ginger-infused oil. After that wrap myself up in warm blankets and go to sleep. The diffusive warming nature of ginger tends to allow my body to fend off any diseases.
The Cramp & PMS Be Gone Tea:
2-inch nub of sliced fresh ginger or 1 teaspoon powdered ginger
¼ cup crushed fennel seeds
½ cup chamomile flowers
½ cup tulsi basil or basil leaves
Add all the ingredients into a quart jar and cover with boiling water and let sit at least 1 hour and up to overnight. Strain and warm up to add honey or lemon. Sip for cramp and pms relief.
Cayenne:
Botanical Name: Capisicum Spp.
Parts used: FruitGardening: Cayenne is usually fairly easy to grow in all climates. Only yields may be affected.
Taste: Pungent
Energetics: Hot & DryingHerbal Actions: alterative, analgesic, anesthetic, anti-inflammatory, antioxidant, antispasmodic, circulatory stimulant, styptic, nutritive, rubefacient, vulnerary.

Plant uses: arthritis, fever toothache, poor circulation, heart disease, hypotension, headache, neuropathy, hypotension, headache, weight loss, menstrual cramps, fungal infections, type 2 diabetes, shingles, inflammation, low libido, insulin resistance.
If you've read the list above then you know that cayenne is truly a wonder plant. It is HOT and SPICY and has about a hundred ways to use it both in your kitchen and in food as medicine. Warning though this is a plant that you have to be careful with handling and using as it contains Capsicum one of the hottest constituents that mother nature makes. AND cayenne again is not for everyone but for some (those cold damp folks) it is a godsend.
If you take a bite of cayenne you know what we mean by energetic oomph. Let's match cayenne to the person that best suits it to understand and support the energetics of this dynamo.
Again this is an extremely HOT plant so we need to use cayenne for people who have a cold and damp condition such as Cold hands and feet, sluggish digestion, pale complexion, tend to lack vigor. I primarily use this plant for pain relief, metabolism, colds and flu, and heart health.

Pain Relief:
Because it contains the constituent capsaicin. Cayenne causes the body to release a pain-relieving substance called substance P that goes into the nervous system. Having a salve or oil infused with cayenne will support the pain response and give almost immediate relief to chronic conditions such as shingles, arthritis, sore muscles, and nerve pain.
Also first aid side note. If you cut your finger with a knife and it's bleeding, rinse the wound out and allow blood to flow. Pack the wound with cayenne powder and the body's response is actually to signal to stop pain response. It's pretty amazing.As a topical remedy, cayenne works.

Heart & Metabolism:
Increasing the fire in your body helps support the circulation of your heart and increases your metabolism. Adding fire cider into your diet is an easy way to relieve pain and support your body's natural abilities. It increases the circulation of the blood and helps oxygenate the cells. This increased circulation is called thermogenesis and can be beneficial for weight loss and upper respiratory conditions.
Heat for mind-clearing, colds, flu, sniffle, and snotsUsing cayenne as an easy way to decrease the duration of the cold and flu. Looking at the immediate response of biting into something spicy you can feel the active constituents of cayenne clearing out all passageways of the body and increasing the output of phlegm to clear congestion and circulation.
Using cayenne for all of its beneficial properties can be as easy as putting it into your foods. Make it spicy folks.
For acute conditions make this Cayenne Tea, but get ready to sweat!
¼ teaspoon cayenne powder
1 tablespoon fresh lemon juice
1 teaspoon honey or more to taste.
Add cayenne to 1 cup of boiling water and then add honey and lemon. Sip as hot as you can.
Ginger & Cayenne Infused Massage Oil
GREAT for joint pain, bruises or cold toes
¼ cup grated ginger
¼ cup chopped cayenne peppers
1 cup olive oil or avocado oil
Take oil and put in a small pan that can go into an oven or a small crock point Bake at 250 for 30 minutes. Strain and put in a small jar.
Use for bruising, sore muscles and arthritic joints.

Short on time? Our Ruby Fire Tonic is perfect to add some spice into your life!