5-Day Herbal Reset Challenge: Day 3 Celery Seed & Basil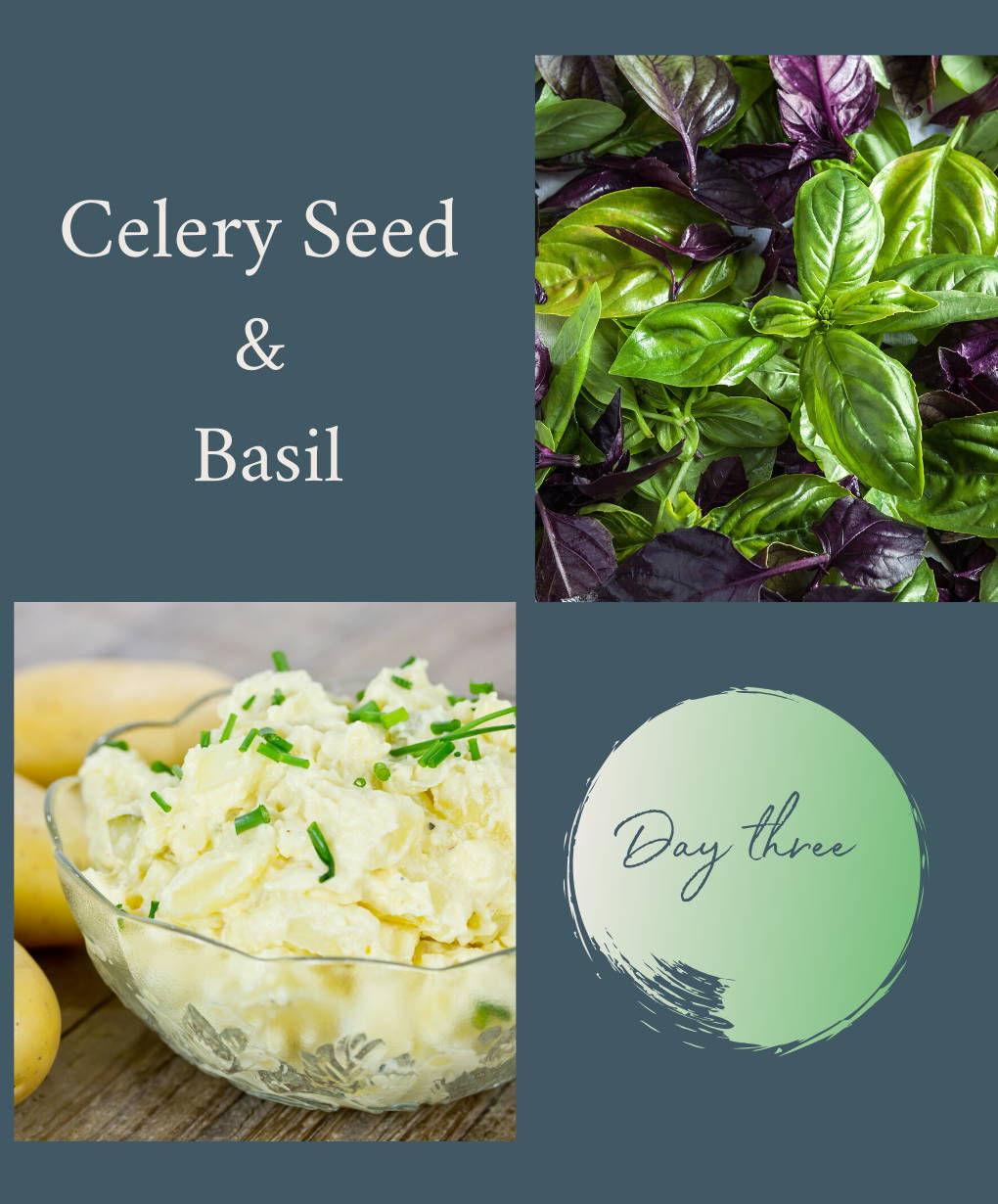 Celery Seed
Botanical Name: Apium Graveolens
Gardening: Finicky at best. Lots of water and rich soil.
Taste: Salty, Bitter
Energetics: Warming, Drying. For folks who tend to be cold and damp.Herbal Actions: Antibacterial, Anti Fungal, anti-inflammatory, antioxidant, bitter tonic, carminative, diuretic, emmenagogue, expectorant, nervine
So this little nugget is one of the smallest seeds in the garden but it is a beautiful herb to have on hand. And not just as a dash in your Sunday Bloody Mary. Here are the three areas I've been using it for:
Digestive:
The bitterness of celery seed makes it effective as a digestive remedy. To activate the digestive process we need to stimulate the flow of gastric juices to digest all food. But stressed eating, especially emotional eating can cause constriction on the system. And long term indigestion can be a factor in a host of other potential diseases.
Celery seed used as a bitter tonic often in combination with other herbs like (fennel, dandelion root, coriander, and cardamom) move the energy throughout the digestive system creating harmony.

Circulation:
This seed is fantastic when we think deeply about the circulation of the body.Not just our heart pumping but the kinetic energy of all our body systems. Good circulation is crucial for staying well. Think about when anything becomes stagnant in an ecosystem. A pool of water soon turns into algae filled slime pit. A log starts to decay and decompose.
Apply that Internally with our bodies, lack of circulation causes pain, indigestion, colds & flu, colic, coughs, gout, menstrual cramps and so many more. Finding an herb that supports the circulation of the body and shifts the body back into balance.
Using celery seed in combination with other herbs is where it performs best*. Specifically with Red Root & Dandelion Root. Both of these add that liver support to help the urinary system flush the uric acid out of the body.
Also circulation all over the body, to the joints, expelling mucus from the lungs,However, rheumatoid arthritis with mental depression was a lightbulb moment for me. Having a chronic disease is beyond hard, even with the physical components we're looking at an enormous amount of mental stress. Adding this herb will move the body to clear the stagnation that comes with arthritic conditions.
Having a nervine component (herb that calms the mind or puts it at ease) can be crucial to stay focused on healing.
It also works won stagnancy in the female reproductive organs specifically with delayed menses, water retention, and cramping.
Ready to add more celery seed into your diet? Because it has a naturally salty flavor, I add it into my herbal sprinkles and also incorporate it into more stews, fish dishes, potato salad and sauerkraut.

On to Basil
Botanical Name: Ocimum Basilicum
Gardening: Grow this plant. Basil loves the summer sun and average water. It will tell you when it needs water for sure. Pinch off any flower growth and if your harvesting for tea or pesto take off the top ⅓ of the plant 2-5x per year (depending on your growing season)
Varietals: Lemon Basil, Lime Basil, Perpetua Pesto (variegated), Tulsi BasilDO: Fill your freezer with pestos (like our Asian pesto) right after summer peaks.
Taste: PungentEnergetics: Warming
Herbal Actions: antibacterial, antispasmodic, antiviral, carminative, nervine

I have A LOT of basil. Like Forrest Gump amounts of preps and uses.
I feel super blessed to have this plant at my fingertips in all forms. Fresh, dried, infused in oils for the body and cooking, it offers itself to be a companion for daily consumption. Whether it's as a nervine tea to help me calm down, a digestive tea to support my ahem lack of ability to digest garbanzo beans or heavy pasta meal.
The warming aromatic constituents of basil help to calm the nervous system, settle the stomach, offer clarity, offer respite from colds and flu especially ones with heavy mucus or phlegm. I love this phlegm formulation with some of our other moisten herbs like violets, red clover or marshmallow root, to support the body on moving the crud up and out. This also includes allergies and asthma. It's a big herb wellness wise.

If you are prone to having respiratory congestion adding basil into your diet or your daily tea is one of the only ways to truly reduce your exposure and output. I will also say that eliminating or reducing your consumption of dairy is very helpful.
Using your own basil is WAY better than anything that you can buy in the stores or even online.
Here is where basil is in my house right now: In my water (hello it's winter), smoothies, all my vinegar, pestos, herbal bath, and foot soaks.