5-Day Herbal Reset Challenge: Day 2 Garlic & Coriander/Cilantro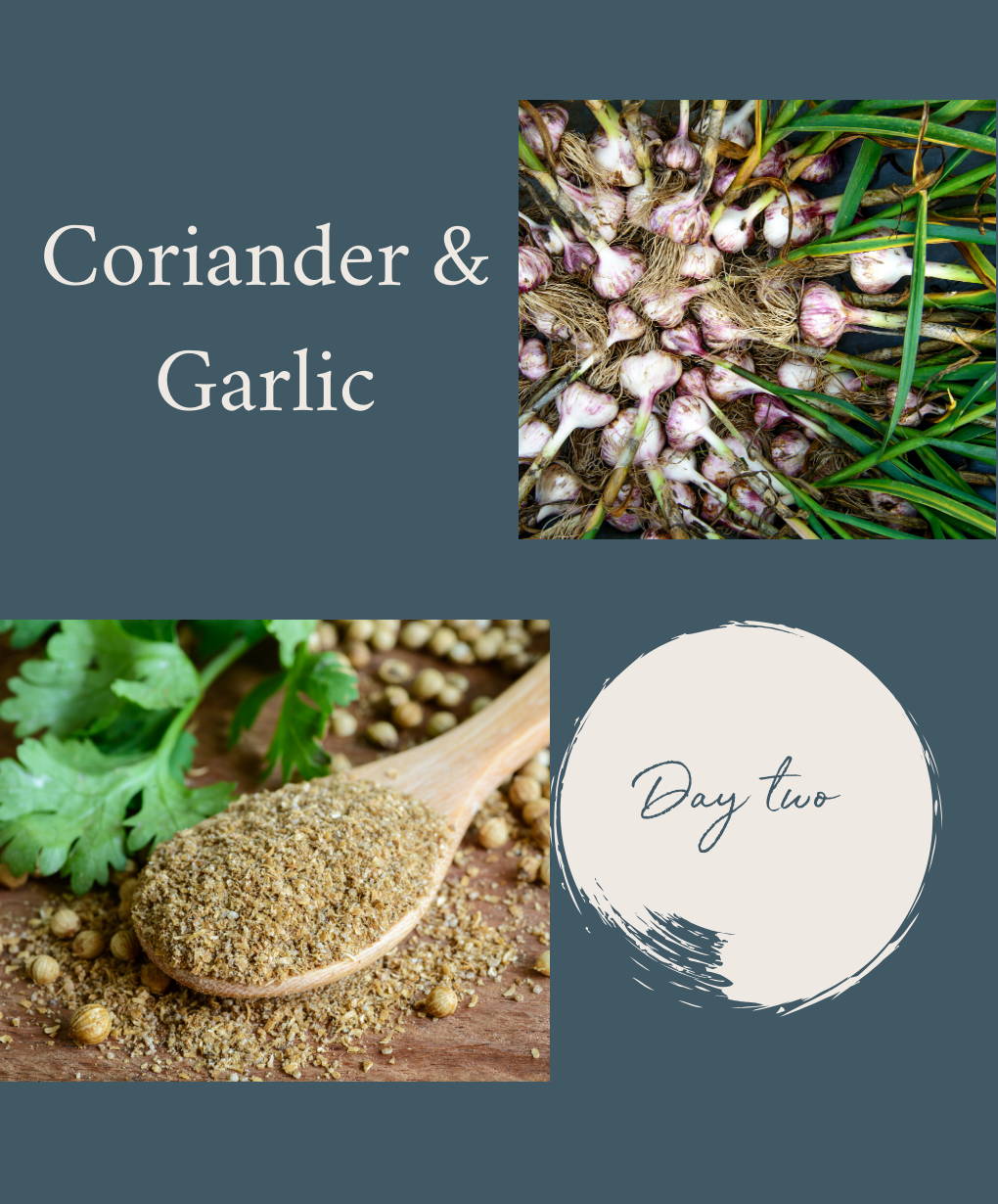 Coriander or Cilantro
Coriandrum sativum
Do you love cilantro?Or does it taste like soap and stink bug?
I love cilantro! To me I love that it truly tastes like sunshine in the winter. The green vitality of it brings me to a state of glow.
BUT did you know that coriander seed & cilantro are the same plant?The coriander is the seed of the plant, and cilantro is the green part. Everything is edible, from the green fernlike leaf, to the bolting white pink flower and the green and then brown seed heads. Those little green and white flowers are eventually turning into the green and then brown seeds of coriander.
Looking in depth at this little seed and plant as a healing herb offers a sense of all things are possible.Taste this herb in your mouth, un-toasted, and taste the light citrus flavor followed by an unmistakable flavor of nutty, herby wonder.
I've been using coriander for the last week or so. All sorts of ways: in teas, crushed as a powder to dust over veggies, added into my salad dressings and an herbal sprinkle salt, but I've come to love it used as an oil drizzle called a tadka (there are lots of ways to make a tadka but this is easiest).
It is the cooking technique in which whole or ground spices are quickly roasted in oil or ghee to release all those aromatic essential oils. Tadka is a traditional Indonesia preparation for adding aromatic spices to dishes such as dals and rice dishes. After you roast the spice add it to the dish oil and all.
Try cooking coriander like this tonight and add it into almost anything that wants to make go snap, crackle, pop.
Okay now that I've made you a wee bit hungry let's drop into a few of the herbal benefits of coriander seed.
The energetics are warming and slightly drying, but its herbal actions are lovely too.
As with most seeds, it has a digestive bent but different from Fennel because it is specific for not just indigestion but more for the stomach flu or purging.It, along with the other carminative herbs, helps relax the sphincters in the digestive tract calming and expels uncomfortable gas.
I also use fresh cilantro and coriander to help with chelating heavy metals and radiation.I've used it for conditions such as PCOS and heavy bleeding during menstruation.
Action items:
Make a tadka. If you are cooking anything that remotely can add this flavor in then do it. We have lentil soup in the fridge and I made a tadka with avocado oil and caramelized onions and then added coriander, cumin and fennel to the onions and oil. Wait til it is fragrant and then pour into the soup. It sizzled. Then I topped it with fresh cilantro. Perfect.
If you have fresh cilantro add it to everything. It is cooling and it helps temper the heat of all spicy foods.Find out more about the coriander plant like its growing habits, and Cilantro in this blog and over in the Facebook community group.
Cilantro/Coriander Gardening tips:
Annual. Grows up to 20 inches.Fern leaf cilantro leads to pink white flowers and then seeds of coriander. Enjoys part shade and moist places in the garden, I love sprinkling cilantro all over my garden and use it as a weed cover. But it is finicky. It will not tolerate frost or high temperatures.It is known to BOLT as cilantro but then it turns into coriander which is also a good herb to incorporate into your world fresh or dried.
Botanical Name: Coriandrum Sativum
Family: ApiaceaeParts used: Aerial, including leaves and seeds
Energetics: Cooling, moistening fresh leaf and warming slightly drying for the seeds
Taste: Pungent
Herbal Actions: Antispasmodic, carminative, diuretic, anti microbial, anti fungal, nervine, aphrodisiac
Plant uses: bloating, indigestion, gas dispelling, diarrhea in children, stool with undigested food aka cold and damp digestion, UTI's and optimizing blood pressure.
Digestive: I have used coriander seed so much in cooking that I wanted to delve a little deeper into this spice. Toasted and roasted this aromatic pungent spice is a go to for many cuisines. It offers that warming carminative action that it relieves the wind and calms the colic (aka spasms).It works by stimulating the secretion of digestive juices and stimulating appetite.
To make a medicinal infusion:
Pour 1 cup of water in 1 teaspoon of bruised seeds.
Let infused 5-10 minutes before consuming.
To ease the spasms or colic it should be drunk before meals.
Garlic
The mother plant
Allium Sativum
So much can be healed with a clove of garlic and maybe a little bit of olive oil.
There are so many foods that have fallen out of use and I probably could have picked one of those to write about but when I think of what I want to use especially this season, Garlic rises to the top.
It's something that we mostly have on hand and can be used as food as medicine.Chopping garlic always reminds me how powerful this herbal ally is. Sticky and almost resinous with potent aromatics and ability to slay monsters, I had to include it in this challenge.
Let's do the reminders, for some, and new info to others, garlic contains several antimicrobial sulfur compounds. Boosts the production of white blood cells, fight off those bacteria, parasites and viruses. Energetically it is warming and drying.
One of the best ways to use this medicine is to eat it. Add a clove or two of minced garlic to a slice of bread and butter with a little fancy herbal sprinkle?If garlic irritates your stomach then making a garlic fermented honey can bring the digestive goodness without creating upset.
You can also rub a clove of garlic on the bottom of your foot and let your body soak it in.If i'm sick or on the verge. I often take a hot bath with ginger then rub my feet with garlic and put socks on. In the morning 9x outta 10 I'm feeling better.
GarlicLoves loose well drained fertile soil. Plant in the fall in the sunniest spot you can find and enjoy the scapes and then the bulbs.
Colleens favorite varietals: Music (big red cloves) Killarney Red Hardneck, Nooska Rose Silverskin but any with do!
Botanical Name: Allium SativumFamily: Alliaceae

Parts used:bulb, green scapesEnergetics: Warming, DryingTaste: Pungent

Herbal Actions:Immune modulating, carminative, diaphoretic, expectorant, antimicrobial, circulatory stimulant
Plant uses: bacterial infections, bronchial congestion, colds, flu, small intestine bacterial overgrowth, digestion, asthma, vampire slaying, cancer, parasites, hypertension, fungal infections, type 2 diabetes, insulin resistance.

Garlic is a cure all. That's why it's included in day two. In sickness and health garlic is ready to support and heal you.
In sickness, garlic is there with sulfuric compounds to clear out the body and is an alterative. Which is a better way of saying that it is an herb that is trying to balance out the body to optimal levels.
Immune System Support:Garlic is a fighter. It has been referred to as the natural antibiotic but really that's not how it can be best described. It inhibits the growth of bacteria in the system and increases the natural killer cells in the body, reduces inflammatory cytokines (the messengers of inflammatory response) and has been shown to decrease the bacterial cells like streptococcus and candida.
Colds and Flu: As a remedy, Garlic can be one of our biggest preventers of upper respiratory system distress. Because it is warming and drying it is going to get into the system and stop the progression of viral growth. It has been shown to reduce the severity and it is an expectorant and helps break up congestion in the chest.
As soon as my kiddo is showing any signs of colds, upper respiratory and lung congestions were laying on the garlic, I'll press a clove of garlic or two into his soup or I'll rub his feet with it, when he lets me.
Heart Health:As a plant that has actually been studied for years, garlic is there for supporting hypertension and diabetes. With cardiovascular deaths still being the number one cause of death, I'll take my garlic any way I can.
I'm a big believer in all the healing properties of this herb -- but sometimes raw garlic isn't what the body craves when we are sick. I always keep a small batch of fermented garlic honey on hand -
just peel 8-10 garlic cloves and smash them.
Add the garlic to an 8 ounce jar and pour with local raw honey.
I leave it on the counter for a day flipping it upside down and then right side up.
Refrigerate after that.
Take 1-3 teaspoons a couple times of day and this antibacterial pungent powerhouse will aid the body in getting well
I often make this garlic paste and mix it with avocados or hummus to enjoy the benefits of garlic with the bonus of parsley and black pepper.
Take 2 large cloves of garlic
Smash them with the side of a knife
Cover the garlic with salt
Add a few sprigs of parsley and some grates of black pepper.
Using the side of your knife continue to smash the garlic and friends until you make a paste.
Scrape the paste into a bowl and drizzle with olive oil.
Use as a topping for avocado toast, dipping sauce for bread, or mix with fresh or roasted vegetables.